Social Media Examiner is known for its signature online summits like Social Media Success Summit and Facebook Success Summit. These events bring together the world's top social media experts and entrepreneurs, and gather huge worldwide audiences.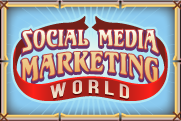 But social media marketing doesn't need to be strictly an online experience. There's great value when you make those online relationships come alive in person. Now Social Media Examiner is bringing only the best presenters to its premier conference, Social Media Marketing World 2013.
It takes place in 'America's Finest City,' San Diego, California! The 70 miles of pristine beaches, a dazzling array of world-class family attractions and wonderful weather all year will provide the backdrop for the mega-conference that will take place at the bay-front San Diego Marriott Marquis & Marina on April 7, 8 and 9, 2013.
The conference is designed to inspire you with amazing content and empower you with the smartest social media marketing ideas and strategies.
Social Media Marketing World—an Exceptional Conference
Here are four other reasons why you should attend Social Media Marketing World 2013.
#1: Meet the Experts
Over the years, you've received advice from the top industry experts via blogs, podcasts, videos, webinars and Social Media Examiner's online success summits.
Well, how would you like to finally meet the experts face to face?
All of the experts you've come to respect and admire will be in one place.
Presenters include Guy Kawasaki, Mari Smith, Chris Brogan, Jay Baer, John Jantsch, Michael Stelzner, Dave Kerpen, Lee Odden, Jason Falls, Mark Schaefer, Mario Sundar, Cliff Ravenscraft, Jesse Stay, Joe Pulizzi, Ann Handley, Marcus Sheridan, Ric Dragon, Brian Carter, Amy Porterfield, Nichole Kelly, Derek Halpern, Pat Flynn and authorities from more than a dozen major brands including Sony, Zappos.com, AT&T, SAP, Intel, Cisco, Neutrogena and Salesforce.com, just to mention a few!
#2: In-Person Networking With Like-Minded Peers From Around the World
At Social Media Marketing World, you'll make priceless professional connections that will last a lifetime.
One thousand marketers are coming to San Diego from all over the world. Attendees are already coming from Norway, Dubai, France, Australia, Ireland, Costa Rica, Canada, India and the United Kingdom, as well as all parts of the United States.
The networking environment will be a one-of-a-kind experience. Here's what you can expect:
1. Structured networking after keynotes and lunch (so you don't have to miss any training sessions) and a catered opening-night evening party at the historic San Diego Natural History Museum. Here you'll tour the museum, enjoy food, drinks and entertainment, and of course network with your peers while surrounded by dinosaur relics!
2. On Monday night, prepare to set sail aboard the Inspiration Hornblower—the largest private yacht in Southern California for the exclusive San Diego Bay Networking Cruise.  Why not grab a drink and get to know some of the folks you've connected with online, as you take in the breath-taking views of San Diego from the open-air sky deck?
3. If you want a quiet place to sit and talk, or perhaps do some video interviews, the Networking Plaza will be available for you around the clock. This is a huge centrally located space that can hold hundreds of people and is equipped with round tables, computer charging stations and video filming stations. So anytime you want to do some serious networking, this space is available to you 24/7!
#3: Highly Valuable Content
Take in highly valuable and inspiring pitch-free content—a trademark of Social Media Examiner—from 49 expert-led marketing sessions covering social tactics, social strategy, community management and content marketing.
Here's a quick glimpse of the amazing content you can expect at Social Media Marketing World 2013:
Social Tactics Track: Find out the best and newest ways to market your business with social media. Pick up actionable tips to improve your marketing with Facebook, Twitter, Google+, LinkedIn, Pinterest and YouTube.
Social Strategy Track: Discover new strategies that will draw ideal customers to your business. Enjoy sessions on social strategy, the psychology of social media, measuring social activities, organizational transformation and much more.
Community Management and Business-Building Track: Discover how to build communities and ultimately sell your products and services via social media. Track sessions include Facebook community management, developing community with blogs, building local businesses with social media and selling with social.
Content Marketing Track: See how successful bloggers and podcasters build and maintain content that their customers love sharing. You'll discover how to leverage content to sell, how to move people to action with content and tips for excelling with blogging and podcasting.
#4: Make it a Vacation
Social Media Marketing World starts Sunday evening on April 7 and extends through Tuesday, April 9, 2013. Why not stay a few extra days and make a vacation out of your trip?  If you really cannot travel that far, a Virtual Pass is also available.
Discover all that Social Media Marketing World has to offer